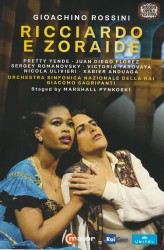 Rossini – Ricciardo e Zoraide
Soloists; Coro del Ventido Basso; Orchestra Sinfonica Nazionale Della Rai; Giacomo Sagripanti
Cmajor 752608 (naxosdirect.com)
The Barber of Seville, La Cenerentola, La Gazza Ladra – familiar Rossini titles, but La Gazzetta? Ermione? Bianca e Faliero? All these, along with Ricciardo e Zoraide, were among the 14 operas emerging from Rossini's conveyor belt during his busiest four years, 1816-1819. Most were soon forgotten amid this superabundance; Ricciardo e Zoraide, here making its DVD debut, was unperformed for almost 150 years until its revival at the 1990 Rossini Opera Festival in Pesaro, Rossini's birthplace.
Agorante and Ircano are warring kings in medieval Nubia. Agorante lusts after his captive, Zoraide, Ircano's daughter, who yearns for Ricciardo, her Christian-crusader lover. Disguised, Ricciardo attempts her rescue, but is captured. Zomira, Agorante's jealous wife, plots the lovers' downfall.
This 2018 Pesaro production boasts a fabulous international cast, headed by lustrous South African soprano Pretty Yende (Zoraide), phenomenal Peruvian high-C wizard, tenor Juan Diego Flórez (Ricciardo), sturdy Italian bass Nicola Ulivieri (Ircano) and two powerful, beefy voiced Russians, tenor Sergey Romanovsky (Agorante) and mezzo Victoria Yarovaya (Zomira). There's a major Toronto presence, too: Opera Atelier's co-directors, Marshall Pynkoski and Jeannette Lajeunesse Zingg are, respectively, the stage director and choreographer, their familiar predilections for mannered stage movements and bare-chested men further undermining the far-fetched scenario's minimal dramatic verisimilitude.
I won't call this opera a neglected masterpiece. However, conductor Giacomo Sagripanti and the truly spectacular singing provide plenty of Rossinian thrills over its nearly three-hour duration, making this a must-have for all opera-on-DVD enthusiasts.