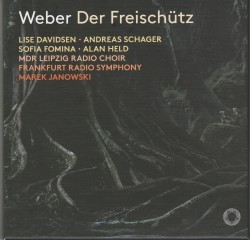 Weber – Der Freischütz
Soloists; MDR Leipzig Radio Choir; Frankfurt Radio Symphony; Marek Janowski
Pentatone PTC 5186 788
(pentatonemusic.com)
Since it was first performed in 1821, Der Freischütz has remained popular in Europe – especially in composer Carl Maria von Weber's native Germany. The music is inspired, the plot suspenseful and the atmosphere evocatively romantic. Yet it is rarely performed in North America, though in Toronto both Opera Atelier and Opera in Concert have done worthy productions.
Undoubtedly the long passages of dialogue present problems, especially on a recording. Often the dialogue gets trimmed down, removed altogether, sung using Berlioz's added recitatives, or turned over to a narrator.
On this recording, the dialogue has been totally reconceived by stage director Katharina Wagner and dramaturge Daniel Weber, and split up between two narrators. But, confusingly, both are pivotal characters in the opera, a Devil called Samiel, and a Hermit. So it is disconcerting to hear them (in the original German – a libretto with translations is included) give away key plot points, scold other characters, and do their best to disrupt things.
In the opera, Samiel doesn't sing, so it works seamlessly to cast this role as female. But Corinna Kirchhoff's voice is too grating and unnuanced here to cause terror, especially in the nightmarish Wolf's Glen scene. In the opera the Hermit is a selfless, wise holy man who shows up only at the end to save the day. But in this narration, he comes off as vindictive and pompous.
In any case, Lise Davidsen, magnificent in the first act of Die Walküre with the Toronto Symphony last year, is powerfully radiant here. Andreas Schager, who made a thrilling Siegfried in the Canadian Opera Company's recent Götterdämmerung, is here just as ardent and versatile. The rest of the cast, the choir and orchestra are standouts, especially with the buoyant phrasing and clear textures shaped so expressively by conductor Marek Janowski.