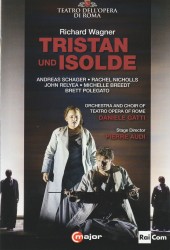 Wagner – Tristan und Isolde
Soloists; Orchestra and Choir of Teatro Opera of Rome; Daniele Gatti
Cmajor 752208 (naxos.com)
Arthurian legend provides raw material for Wagner's greatest opera, but his treatment for the story was inspired by Schopenhauer's philosophy, specifically his contention that bliss can only be found through the negation of will and desire. Schopenhauer is certainly a presence in the opera, which ends in blissful annihilation, but desire is its governing force. Essentially, Tristan und Isolde is a five-hour love song.
The plot is refreshingly simple. Tristan is sent to Ireland to bring the Irish princess Isolde as a bride for his uncle King Marke of Cornwall. But Tristan falls passionately in love with the bride-to-be and she reciprocates. They conclude that death is the only way out and take what they believe is poison. But Isolde's maid Brangäne substitutes a love draught and their passion is reconfirmed. Their affair continues until they are caught by one of Marke's knights. Tristan is wounded and taken back to Brittany where he dies just as Isolde arrives. Sinking into his body, she is united with him in death.
The cast directed by Pierre Audi (and musicians by Daniele Gatti) masterfully navigate Wagner's sinuous melodic lines and suspended harmonies. A sense of heady sensuality and physical longing saturates this production. Andreas Schager and Rachel Nicholls are brilliant in the title roles.