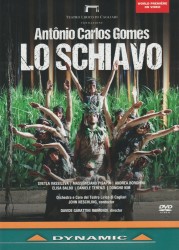 Antônio Carlos Gomes – Lo Schiavo
Soloists; Orchestra e Coro del Teatro Lirico di Cagliari; John Neschling
Dynamic 37845 (naxos.com)
Brazilian-born Antônio Carlos Gomes (1836-1896) lived many years in Milan, composing operas for La Scala, before returning to Brazil as a national icon. He intended Lo Schiavo (1889) as a protest against slavery, still legal in Brazil when he began working on it, setting a libretto prepared for him by Rodolfo Paravicini. A success in Brazil, it was largely ignored in Europe, although Caruso recorded Américo's Act 2 aria, Quando nascesti tu. This 2019 production from Sardinia's Teatro Lirico di Cagliari was, in fact, its Italian premiere.
The opera is set in 1567, near Rio de Janeiro, during a revolt by indigenous Tamoyos, many having been enslaved by the conquering Portuguese. Américo (tenor Massimiliano Pisapia), the abolitionist son of slaveholder Count Rodrigo (bass Dongho Kim), loves the slave girl Ilàra (soprano Svetla Vassileva). To separate the lovers, Rodrigo orders Américo to the battlefront and forces Ilàra to marry Américo's friend, the enslaved Tamoyo leader Iberè (baritone Andrea Borghini), before selling them to the Contessa di Boissy (soprano Elisa Balbo). Despising slavery, she sets them free. They rejoin the Tamoyos who soon capture Américo. Iberè, rejected by Ilàra and loyal to Américo, helps the lovers escape. Facing the rebels' condemnation for his action, Iberè commits suicide.
This production's exotic sets, costumes and choreography, reflecting the libretto's historic time and place, admirably reinforce Gomes' bold, assertive, robustly scored late-Romantic music, with stirring choruses calling for freedom and the end of slavery.