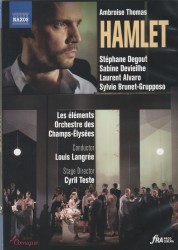 Ambroise Thomas – Hamlet
Soloists; Les elements Orchestre des Champs-Elysees; Louis Langrée
Naxos 2.110640 (naxos.com)
Once immensely popular, Ambroise Thomas' Hamlet had mostly disappeared from opera stages until the Canadian Opera Company's historic performance with Joan Sutherland in 1985 (though Stuart Hamilton, ever astute, had chosen it to inaugurate Opera in Concert in 1974). It is now heard much more frequently. This terrific production from the Opéra Comique in 2018 offers definitive proof that it belongs in the standard repertoire.
Instead of using built sets, stage director Cyril Teste projects live and pre-recorded video on to curtains, backdrops, and movable walls. There are some astonishing feats of technological wizardry, especially when the singers interact directly with the live video. While video can no doubt feel clichéd these days, here it seems fresh, innovative and integral to the considerable psychological depth of this production. It's amazing to watch the ghost of Hamlet's father, Jérôme Varnier, make his way down from the back of the stage through what looks like steeply raked rows of empty seats in that theatre.
Video director François Roussillon puts us in the middle of the action. But the focus is always on singers. Extreme close-ups show the commitment of this remarkable cast, especially in the brilliantly staged interactions between singers, like Ophélie and Hamlet in their exquisite duet Doute de la lumière. Hamlet's confrontation with his mother is so gripping that it seizes the emotional centre of the opera.
Sabine Devielhe, a natural heir to the fabulous, now-retired Natalie Dessay, is a delight as Ophélie, with her formidable agility and charm. Stéphane Degout is a compelling presence, expressive and brooding in the title role. Mezzo Sylvie Brunet-Grupposo's Gertrude is powerfully searing, while bass-baritone Laurent Alvaro humanizes Claudius with finely shaded details. The Orchestre des Champs-Élysées, playing on period instruments, and the choir Les éléments, all under conductor Louis Langrée, who has long been devoted to this great opera, are elegant and responsive.