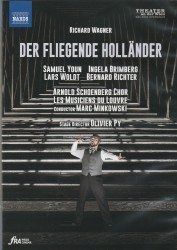 Wagner – Der Fliegende Holländer
Samuel Yuon; Lars Woldt; Ingela Brimberg; Bernard Richter; Les Musiciens du Louvre; Marc Minkowski
Naxos 2.110637 (naxos.com)
Richard Wagner's opus, Der Fliegende Holländer was completed in 1840, and then revised three times during the next 20 years. Arguably the opera in which Wagner found his voice, it was inspired by the story of a Dutchman whose blasphemy led to his being condemned to sail the seas for eternity unless he could be redeemed by a faithful woman.
The action begins in a Norwegian fjord where a sailor named Daland is sheltering his vessel from a storm. A ghostly ship pulls alongside and its captain – the Dutchman – offers Daland vast wealth in exchange for a single night's hospitality. Daland's daughter, Senta, who is obsessed by the tales she has heard about the Dutchman's fate, vows to be his salvation. Forsaking her lover, Erik, she joins the Dutchman and proves her fidelity to him unto the end, when she throws herself into the sea after him. In the climax that follows, the lovers are seen transfigured, rising above the waves.
Der Fliegende Holländer is set in three acts but is often performed as a continuous two-and-a-half-hour whole. Highlights are Die Frist ist um and Johohoe! Johohoe! Marc Minkowski's conducting is triumphant. Olivier Py's direction – amid a bleak set – brilliantly captures Wagner's opera with cohesion and fluency. Samuel Youn's full-voiced, bass-baritone Dutchman has anguish and desperation, Ingela Brimberg's Senta is sweet and effortless and Lars Woldt's Daland is resonant and noble. Orchestra and chorus are in glowing form too.