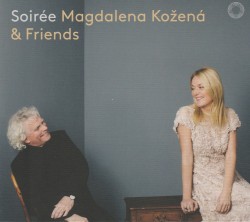 Soirée
Magdalena Kozena & Friends
Pentatone PTC 5186 671 (pentatonemusic.com)
How nice it is that a singer would take some time out of her crazy, busy life, sit down with friends and a few drinks and sing her favourite songs. And that's exactly what by-now-world-famous-Czech mezzo, award-winning recitalist, recording artist and opera star, Magdalena Kožená, does here. This is her debut issue on the Pentatone label. The "friends" include a string quartet, a clarinet, a flute and a piano, the latter played by her husband, Sir Simon Rattle. Each combination of these instruments creates different tonal effects and colouring for an idiomatic and unique accompaniment.
Her choice of program gives a cross section of lieder literature from the late Romantics (Chausson, Dvořák, Brahms and R. Strauss) through French Impressionism (Ravel) and some Moderns (Stravinsky and Janáček). In fact we can follow the development of the art song with a fascinating variety and style where the golden thread of Kožená's imagination, wonderfully expressive voice, beautiful intonation and some lovely inflections are evident throughout. Just listen to her inflection on "Vögelein" in Gestillte Sehnsucht, by Brahms!
Naturally she is strongest in her native Czech and Moravian idiom. She sings with youthful freshness and confidence. Especially impressive and unique are the Nursery Rhymes by Janáček; some are outrageously funny. And I am happy she included one of my all-time favourite songs by Dvořák, When my mother taught me.
A lovely, relaxed musical evening you will cherish.