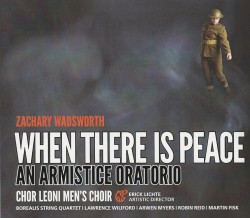 Zachary Wadsworth – When There is Peace: An Armistice Oratorio
Chor Leoni Men's Choir; Erick Lichte
Independent CLR 1909 (chorleoni.org)
One year ago (November 10 and 11), the 100th anniversary of the end of World War I, this work was premiered and recorded in Vancouver, where Zachary Wadsworth (b.1983) is the Chor Leoni Men's Choir composer-in-residence. Wadsworth says his goal was "to honour the experiences" of those who served and "to celebrate those who gave their lives in search of peace."
The 58-minute oratorio draws from 17 different writers, including many soldiers' wartime descriptions and poetry by Robert Service, Siegfried Sassoon, Sara Teasdale and others. Soprano Arwen Myers, tenor Lawrence Wiliford and five readers add to the sonic mix led by the chorus, Borealis String Quartet and percussionists Martin Fisk and Robin Reid, all conducted by the choir's artistic director, Erick Lichte.
The prevailing mood, as expected, is sombre, with the chorus suggesting (to me) the haunted voices of the dead, ghostly laments from beyond the grave. A recurring motif relates to birds – representing life in contrast to the carnage below. Musically, there's a repeated ascending violin melody (shades of Vaughan Williams!) while the text (included) mentions "larks," "thrush," "brave birds," "bird songs," "swallows," "robins" and Sassoon's description of the armistice: "Everyone burst out singing… with such delight as prisoned birds must find in freedom."
The well-crafted music of this worthy addition to the choral memorial repertoire provides a platform for the powerful words of war and peace, century-old words still relevant, not only on Remembrance Day, but on all days.