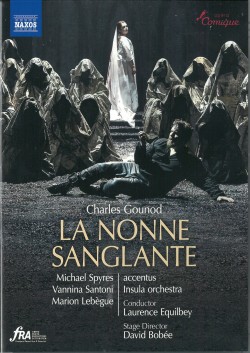 Charles Gounod – La Nonne Sanglante
Michael Spyres; Vannina Santoni; Marion Lebègue; Accentus; Insula Orchestra; Laurence Equilbey
Naxos 2.110632 (naxos.com)
In 2018, the bicentennial of Gounod's birth, the Paris Opéra Comique revived this opera, unstaged until 2008 in Germany following its brief, 11-performance run in 1854. Whatever the reasons for its initial failure, this production, with highly dramatic scenes, brilliantly sung by an outstanding cast, makes a persuasive case for its future survival.
During the dark, nervous Overture we witness the Nun's murder and slo-mo start of a battle between two warring clans in 11th-century Bohemia. (Today's opera directors abhor closed curtains during overtures.) The libretto involves two lovers from the rival clans, the ghost of "the Bleeding Nun" seeking vengeance against her murderer, mistaken identity, ghostly gatherings and a murder plot, ending with the lovers, Agnès and Rodolphe, finally reunited.
Befitting the supernatural goings-on, the semi-abstract sets and projections are all grey and black, as are most of the cast's costumes, a mix of medieval and modern. The Nun wears a white, bloodstained shroud; the other ghosts appear in grey military garb or shrouded in white.
Tenor Michael Spyres (Rodolphe) dominates the action – his arias presage Gounod's great tenor arias for Faust and Roméo – and with his sweet yet powerful voice he sings them all magnificently! Paralleling Spyres' intense, thrilling vocalism are sopranos Vannina Santoni (Agnès) and Jodie Devos (Arthur, Rodolphe's page), and mezzo Marion Lebègue (Nun). Conductor Laurence Equilbey's minor cuts, mostly in the ballet, help propel the excitement throughout.
Enthusiastically recommended to all lovers of great singing!