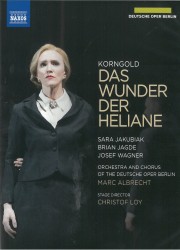 Korngold – Das Wunder der Heliane
Sara Jakubiak; Brian Jagde; Josef Wagner; Deutsche Oper Berlin; Mark Albrecht
Naxos 2.110584-85 (naxosdirect.com)
The longest, most voluptuously scored of Korngold's five operas makes its overdue DVD debut. Korngold considered it his masterpiece, brimming with radiant, rapturous melodies in the distinctive style that would later sustain him during the Nazi years in his new home – and career – in Hollywood.
In Hans Müller-Einigen's allegorical libretto, the brutal Ruler of a mythical realm, scorned by his wife Heliane, condemns a charismatic Stranger to death. Heliane visits the imprisoned Stranger, offering solace and, at his pleading, baring her body. The Ruler, intruding, accuses her of adultery. At her trial, the Stranger commits suicide, but before Heliane can be executed, he miraculously comes back to life (the "Wunder" of the title). The Ruler kills Heliane, but she and the Stranger enter heaven together.
The superb cast, led by soprano Sara Jakubiak (Heliane), tenor Brian Jagde (Stranger) and bass-baritone Josef Wagner (Ruler), receives full-blooded support from conductor Marc Albrecht, who unhurriedly spins out Korngold's long lyrical lines while eliciting, when needed, ferocious bite from the orchestra and chorus. Heliane's great aria, Ich ging zu ihm, gorgeously sung by Jakubiak, seemingly takes forever to unfold and ascend, Liebestod-like, to its ecstatic, goose pimple-inducing climax.
Regrettably, this 2018 Deutsche Oper Berlin production disdains Müller-Einigen's stage directions: "no trace of realism…timeless garments." Instead, the cast wears drab, modern business attire within a drab, modern courtroom set, subverting much of the opera's magical fantasy. Nevertheless, Korngold's ravishingly beautiful music, beautifully performed, emerges gloriously triumphant.