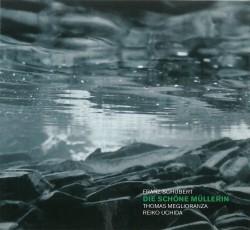 Schubert – Die Schöne Mullerin
Thomas Meglioranza; Reiko Uchida
Independent 004 (meglioranza.com)
Thomas Meglioranza is a young American baritone with an impressive background of recitals, oratorio singing, even opera, and together with California pianist Reiko Uchida has formed a duo mainly for lieder recitals. To date they have issued three recordings with considerable success and international acclaim. This new disc of Die Schöne Müllerin is their fourth recording and comes with a recommendation from the legendary Dietrich Fischer-Dieskau praising their "healthy and beautiful sounding way of performing these difficult songs".
The selection of the piano was of paramount importance as Meglioranza's personal preference for this cycle was an early keyboard sound. After much research and deliberation the final choice was a Zierer, a Viennese fortepiano from 1829 that had a "rustic twang" and a lovely, crisp and non-intrusive tone.
The Schöne Müllerin is a particular favourite of mine being the most melodious, very emotional and probably the happiest of all of Schubert's cycles. My first acquaintance with it was hearing the song Wohin? (Where to?) as a child and it made a tremendous impression on me. The story is very romantic: boy gets girl, boy loses girl. The water motive runs through the entire cycle; the brook (lieber bächlein) becomes a friend and confidante of the young man and some of the most beautiful songs are dialogues with the brook (e.g Die Neugerige and Der Müller und der Bach). My favorite moment is in the song Ungeduld where the young lover sings his heart out, declaring Dein ist mein Herz in glorious fortissimo, that's certainly understood by anyone who has ever been in love!
Meglioranza's fine baritone, intelligent singing and impeccable German diction, thoroughly inside the poetry, with sympathetic and stylish accompaniment by Ms. Uchida, does deserve Fischer Dieskau's praise and mine too.