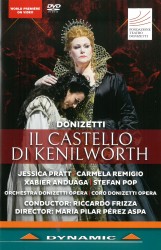 Donizetti – Il Castello di Kenilworth
Pratt; Remigio; Anduaga; Pop; Orchestra/Coro Donizetti Opera; Riccardo Frizza
Dynamic 37834 (naxosdirect.com)
A double rarity: an all-but-forgotten opera and a non-updated production – the Tudor-era costumes actually reflect the period of the opera's events. Andrea Leone Totolla's libretto, derived from Walter Scott's novel Kenilworth, pits the Earl of Leicester's love for his secret wife, Amelia, against his ambition to gain the throne by exploiting Queen Elizabeth's love for him. When Elizabeth arrives at his castle, Leicester has his squire, Warney, confine Amelia in a remote room. Warney professes his love for Amelia; spurned, he plots her death.
Leicester's and Warney's separate schemes begin to unravel when Amelia manages to escape and encounters Elizabeth (foreshadowing the confrontation of Mary and Elizabeth in Maria Stuarda). All four principals, together, then express their anguish at the sudden turn of events. Unlike Scott's novel, in which Warney kills Amelia, and unlike Donizetti's other Tudor operas, this one eventually ends happily. Warney's murder attempt is foiled; Leicester's love for Amelia leads him to confess his deception to Elizabeth; she forgives him and blesses his marriage.
This production from the 2018 Donizetti Festival in Bergamo, Donizetti's home town, features a bare-bones set, minimal props and no scenic backdrops, all on a postage-stamp-sized stage. What makes it very worth watching is Donizetti's melody-drenched, rhythmically energized score, ably sung by sopranos Jessica Pratt (Elizabeth) and Carmela Remigio (Amelia), and tenors Xabier Anduago (Leicester) and Stefan Pop (Warney). The Donizetti Opera Chorus and Orchestra are energized, too; bravo to conductor Riccardo Frizza.