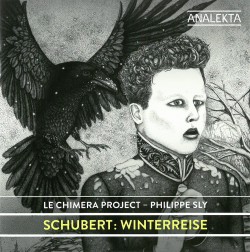 Schubert – Winterreise
Philippe Sly; Le Chimera Project
Analekta AN 2 9138 (analekta.com/en)
In the course of Schubert's Winterreise (Winter Journey), a stranger wanders out of a hostile town in nasty weather. His heart has been broken, and he's desperately miserable. While this landmark song cycle represents the spirit of Romanticism, it does feel achingly modern.
These 24 songs have long inspired various arrangements. But why a klezmer Winterreise? Both Wilhelm Müller's poems and Schubert's music, like klezmer, have roots in folk song. And the cultural connections between Schubert's wanderer and the wanderer of Eastern European Jewish-Romani traditions run deep.
Though Le Chimera Project's adaption is far tamer than, say, Hans Zender's radical revision, it goes further than Normand Forget's sensitive transcription. The voice part remains untouched, but the piano accompaniment, now arranged for a typical klezmer ensemble – clarinet, violin, trombone and accordion – takes a step outside the classical tradition. The spirited musicians of Le Chimera Project pull off the plaintive tremolos and trills, jazzy syncopations and bent notes, and stylish interpolations, with seamless vitality.
Canadian bass-baritone Philippe Sly is enthralling, right through to the harrowing final song, Der Leiermann (The Hurdy-gurdy Man), when the wanderer, with Sly accompanying himself on a hurdy-gurdy, contemplates going off to join an itinerant hurdy-gurdy player. When Schubert's opening song Gute Nacht (Good Night) is revisited at the very end of this daring – and rewarding (even without texts and translations being included) – recording, it gains new meaning here, especially with the shattering impact of Sly's now hollowed-out, desperate voice.