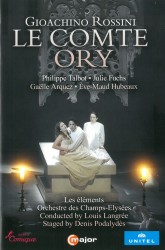 Rossini – Le Comte Ory
Talbot; Fuchs; Arquez; Hubeaux; Les éléments; Orchestre des Champs-Élysées; Louis Langrée
Cmajor 747408 (naxosdirect.com)
Rossini's two-act Le Comte Ory was inspired by a medieval ballad in which knights end up seducing nuns. In the one-act version offered to Rossini by librettist Eugène Scribe, the knight dresses as a nun to seduce a countess. Rossini is known to have requested that another (first) act be added for which he composed delightful arias, ensembles and choruses, making his last comic opera an immense success.
In this version of the opera, Denis Podalydès' staging combines period settings with contemporary mise-en-scène. The DVD of the staging, directed by Vincent Massip, captures the ambitious production with great clarity and dramatic effect. The cinematography is highly evocative; in keeping with Rossini's vaunted arias which are voiced with uncommon mastery by – among others – the tenor Philippe Talbot, playing the rakish Le Comte Ory, soprano Julie Fuchs (as La Comtesse), mezzo-soprano Gaëlle Arquez (as the count's page Isolier), Jean-Sébastian Bou (as Raimbaud, the count's friend).
The lead singers generate a strong sense of ensemble with Talbot's Le Comte and Fuchs' La Comtesse making the most of their comic opportunities. It is Fuchs who charms with a heady coloratura, more honeyed tones and a dramatic weight, tempered by comic timing. The quality of the singing is matched in every way with the acting. The staging is enormously accomplished and the excellent production values show that nothing was spared in an effort to bring this elaborate production to fruition.