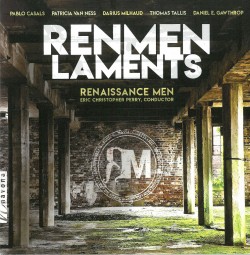 Renmen Laments
Renaissance Men; Eric Christopher Perry
Navona Records nv6210 (navonarecords.com)
RenMen, short for the Renaissance Men, have teamed with Navona Records to release Renmen Laments, a beautiful reimagining of the music of such composers as Pablo Casals and Darius Milhaud, along with the ensemble's continued relationship with the great contemporary American choral composer Daniel E. Gawthrop, that easily evokes an otherworldly ethereal beauty in celebration of the adult male voice. Beautifully recorded at the Westminster Presbyterian church in Buffalo, New York the ten-piece vocal group, formed in 2014, offers up another fine collection of music that demonstrates why they are a welcome addition to the already busy choral music scene in Boston, and a satisfying collection of new work for choral music fans worldwide.
On Laments, the group is authentically and expertly able to bring a Renaissance vocal approach and sensibility to the wide swath of music presented here, leaping countries of origin, historical timelines and style. Finding artistic simpatico with American composers Gawthrop and the fellow Massachusetts-based musician Patricia Van Ness, the Renmen have worked, and succeeded, at bringing what some may view as a historically antiquated music into cultural relevance for 21st-century audiences. With this victory, coupled with what I hope is the widespread dissemination power of a new record company and a busy calendar of public concert engagements in 2019, the group holds the promise to help Renaissance music have its own renaissance in the foreseeable future. Laments is a highly recommended recording for enthusiasts of vocal music, choral work and the Renaissance more generally.