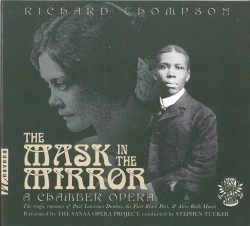 Richard Thompson – The Mask in the Mirror, A Chamber Opera
SANAA Opera Project; Stephen Tucker
Navona Records nv6209 (navonarecords.com)
Richard Thompson's haunting opera in three acts The Mask in the Mirror tells the story of the ill-fated marriage between the African-American writer Paul Laurence Dunbar and the lighter-skinned Alice Ruth Moore. Thompson tells the story of the lovers with minute and tragic detail, allowing his singers plenty of space to explore the tension of this extraordinary relationship, which unfolds in the context of racism in 19th-century America as well as in terms of the psychological drama surrounding two lovers ill-equipped to distinguish between sexual desire and the loftier ideals of their fraught relationship.
Cameo Humes' Dunbar is truly inspired and the character unfolds through his sonorous tenor which is wielded with enormous power to unlock the vivid metaphor of the mask in the mirror. Angela Owens' Moore is equally spectacular. She describes Moore's less successful but nevertheless equally strong character with dramatic thrust. Together with other incidental characters – all exceptionally developed by Thompson – and the superbly moody orchestral performance, The Mask in the Mirror is powerful and heady, as well as appropriately literary.
The score remains relatively spare throughout yet provides enough detail to tell the complex story. Thompson demonstrates a masterly control of dramatic pace, ratcheting up tension slowly but surely so that the final dénouement reaches a devastating climax, aided by performances – led by the dark-hued timbre of Humes' Dunbar – which vividly project the complicated nature of the drama.