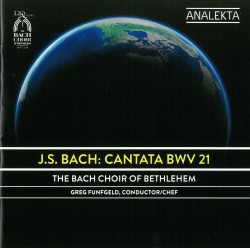 JS Bach – Cantata BWV 21
Bach Choir of Bethlehem; Greg Funfgeld
Analekta AN 2 9540 (analekta.com/en)
Of all the musical commentaries on the biblical texts used in service – most importantly on the Gospel reading – the cantatas of Johann Sebastian Bach are not only the most famous, but are also as pious as they are magnificent. These are the works that foretold the choral masterpieces such as the mighty St John and St Matthew Passions that came in 1724 and 1727 respectively.
The repertoire on this disc, Ich hatte viel Bekümmernis, Cantata BWV21 (1714) precedes those two great Passions as well as Bach's B-Minor Mass (1749). The cantata marks a transition from motet style on biblical and hymn text to operatic recitatives and arias on contemporary poetry; and Bach characterized the work as "e per ogni tempo (and for all times)," indicating that due to its general theme, the cantata is suited for any occasion. On this disc it is bookended by two arias: Heil und Segen from Gott, man lobet dich in der stille (God, You are praised in the stillness) BWV120 and Liebt, ihr Christen, in der Tat from Die Himmel eräzhlen die Erhe Gotte (The heavens tell the glory of God) Cantata BWV76.
These gentle works get suitably sensitive performances from the Bach Choir of Bethlehem with sopranos Cassandra Lemoine and Rosa Lamoreaux, countertenor Daniel Taylor, tenor Benjamin Butterfield and baritone William Sharp investing everything as they solo with heartfelt intensity. Conductor Greg Funfgeld points up the drama of Bach's choral works with eloquent restraint, seriousness and joy.