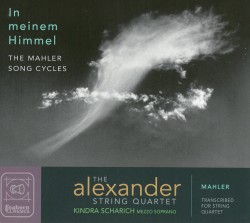 In Meinem Himmel – The Mahler Song Cycles
Kindra Scharich; Alexander String Quartet
Foghorn Classics FCL 2019 (foghornclassics.com)
This project comes from San Francisco and it is an experiment by the renowned Alexander String Quartet to transcribe three of Mahler's orchestral song cycles, Songs of a Wayfarer, Rückert-Lieder and Kindertotenlieder for string quartet in order to experience this repertoire in an intimate chamber music setting and perhaps enrich and enhance its emotional world. I had some misgivings, because nowadays there is a definite trend to different versions of the great works, by ambitious musicians, that could harm and distort the composer's original intent.
To my mind, these are definitely orchestral songs and require the power and the colours of the full contingent of a symphony orchestra with Mahler's unique orchestration for their musical and emotional impact. The sound of a string quartet is entirely different and hasn't the pungent quality the wind instruments provide and it cannot possibly duplicate what Mahler had in mind, although the transcriber violinist Zakarias Grafilo, gave much thought and effort to preserve some of the aural colours and even the emotional innigkeit of the original, yet es ist kein Mahler as I imagine Leonard Bernstein would say.
Nevertheless it's a labour of love. Idiomatic and virtuoso string playing and the singing is simply gorgeous. Young American mezzo Kindra Scharich has a beautiful voice, total emotional commitment and musical imagination that certainly makes worthwhile listening. Her soulful, anguished tone when the rejected lover sings about the two beautiful blue eyes of his lost sweetheart (Die zwei blauen Augen) is simply heartbreaking and I just loved her voice so full of joy in exclaiming Heia! in Ging heut morgen. An interesting experiment, but not quite Mahler.