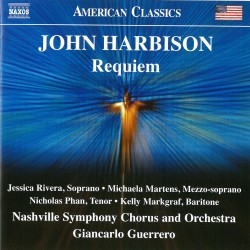 John Harbison – Requiem
Soloists; Nashville Symphony Chorus and Orchestra; Giancarlo Guerrer
Naxos 8.559841 (naxosdirect.com)
John Harbison's Requiem captures the nature of death with both metaphysical and aesthetic sophistication, firstly because of the authentic use of the Latin text in its scriptural context and secondly because of the utterly existential prescience of this choral performance. Despite the fact that the music eventually soars with the apposite release of Libera me, the shadowy solemnity of the preceding sequences makes the work both profoundly melancholic and breathtakingly beautiful. It is a monumental work – Harbison's pièce de résistance – appropriate to the events of 9/11 which inspired it. Consequently the use of the Latin in the setting of a traditional requiem might commemorate a divine passion – such as in the Introit – yet the work commemorates abject human suffering.
The musicians of the Nashville Symphony and Chorus convey the gravitas of Harbison's epic work with a powerful sense of both sorrow and spontaneity. Chorus director Tucker Biddlecombe's inspired choices of male and female voices – the powerful and incisive (solo) singing of Jessica Rivera (soprano), Michaela Martens (mezzo-soprano), Nicholas Phan (tenor) and Kelly Markgraf (baritone) – and the ensemble performances, bring a passionate, soaring intensity to the antiphons, responsories and sequences, to produce an absorbing and inexorable service. Giancarlo Guerrero fixes his sights on the sheer drama of the proverbial solemn high mass and shepherds a program that swirls with sinewy energy heavy with the atmosphere of foreboding before its ultimate – even joyful – release of the final In paradisum.