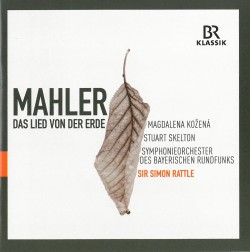 Mahler – Das Lied von der Erde
Magdalena Kožená; Stuart Skelton; Bayerischen RSO; Sir Simon Rattle
BR Klassik 900172 (br-klassik.de/orchester-und-chor/br-klassik-cds/symphonieorchester/br-klassik-cd-symphonieorchester-mahler-lied-simon-rattle-100.html)
Gustav Mahler began work on his "Symphony for Tenor, Alto (or Baritone) and Orchestra" in 1907, a year marked by a series of personal and professional tragedies. Around that time he was given an anthology of Chinese Tang dynasty poetry transliterated from French to German by Hans Bethge. Captivated by the melancholy tone of these poems that so well captured his sense of resignation, he sought out early recordings on wax cylinders of authentic Chinese music and, philosophical by nature, also immersed himself in Buddhist literature. Choosing several poems from this volume he created what he covertly regarded as his ninth symphony the following summer.
The present recording is assembled from live performances conducted by Sir Simon Rattle in January of 2018, his second and unquestionably his finest recording of this work. I normally prefer a darker-voiced contralto (or baritone) in this song cycle, however Magdalena Kožená's beautiful mezzo-soprano upper register and sensitive tonal inflections eventually won me over. Even more impressive to my mind is the heroic tenor of the Australian Stuart Skelton, whose powerful voice rides effortlessly over the massive orchestration of the opening movement, yet is capable of an agile suppleness in the lighter movements that follow. The excellent Bavarian Radio orchestra once again demonstrate their stellar reputation as a Mahler orchestra dating back to the days of Rafael Kubelík's superb box set of the symphonies from the 1960s.
The recording is clear and close-miked with negligible extraneous noises, and text and translations are included. Of the 60 or so recordings of this work that have seen the light of day this one surely belongs among the top ten.