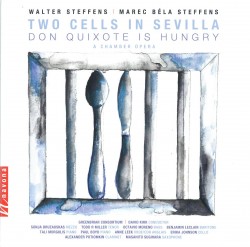 Two Cells in Sevilla: Don Quixote Is Hungry
Sonja Bruzauskas; Todd R Miller; Octavio Moreno; Benjamin Leclair; Greenbriar Consortium; David Kirk
Navona Records NV6174 (navonarecords.com)
Two cells in adjacent buildings overlook a square in 16th-century Seville. Gabriel Téllez (baritone Octavio Moreno), a monk who wrote under the name Tirso de Molina, is in his cloister; Miguel de Cervantes (tenor Todd R. Miller), along with his Servant (bass Benjamin LeClair), is in prison, accused of embezzlement.
Gabriel and Miguel lament over their "watery broth" and plead with the Cook (mezzo Sonja Bruzauskas) for better food, but she rebuffs them, lost in her dreams of romance. Trying to charm her, Gabriel and Miguel begin creating their now-classic tales of Don Juan and Don Quixote, respectively, until they're interrupted by a letter signed "John Falstaff."
Marec Béla Steffens' clever, fanciful libretto is set to music by his father, German composer Walter Steffens (b.1934). The 38-minute opera, scored for oboe/English horn, clarinet, saxophone, cello and piano, in addition to the four singers, was premiered in Houston in 2016. The text is sung in parlando style, the vocal and instrumental lines lively and engaging. Given its economical forces and inherent entertainment value, with many familiar musical and literary references, this comical chamber opera is a natural audience-pleaser for conservatories and small opera companies everywhere.
The CD also includes Walter Steffens' pensive, 12-minute song cycle, Five Songs on Hölderlin (2008), performed by Bruzauskas and pianist Tali Morgulis. No texts are provided, but the opera libretto and Hölderlin's German verses, without translation, are downloadable from Navona's website.