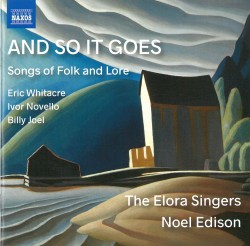 And So It Goes – Song of Folk and Lore
Elora Singers; Noel Edison
Naxos 8.573661 (naxos.com)
This superb recording literally cuts a choral swath through Canada, the United States and the British Isles, by including musical material that literally helped shape the cultural identity of those nations. Britain is represented here by compositions from Ivor Novello, Gustav Holst and Ralph Vaughan Williams. Several traditional airs are also present, as is the work of two Canadian composers: Jimmy Rankin's JUNO-winning Fare Thee Well My Love and Eric Whitacre's Go, Lovely Rose. From the US comes Billy Joel's melancholy And So It Goes. With Joel's poetry reframed in a fresh and almost hymn-like arrangement, the song takes on a whole new emotional life. Recorded by Nobert Kraft at St. John the Redeemer in Elora, this ambitious recording was produced by Kraft and Bonnie Silver; the two gifted pianists featured are Leslie De'Ath and James Bourne.
The award-winning Elora Singers is an all-professional vocal ensemble founded in 1980, that has thrilled the world with many memorable performances, as well as bringing Canadian vocal chamber repertoire to the international stage. The choir is, of course, the linchpin of the noted Elora Festival.
There are 21 pieces on this CD, each one a perfectly cut diamond – all refracting light in their own uniquely beautiful way. Of special note are Vaughan Williams' Three Shakespeare Songs. The choir, expertly conducted by founding director Noel Edison, uses dynamics, sibilant consonants, control of vibrato and impeccable intonation to wend its way through the complex arrangements; it almost seems as if they can morph into a fantastically intricate one-celled being, displaying precision, inspiration and unfailing musicality in equal parts.