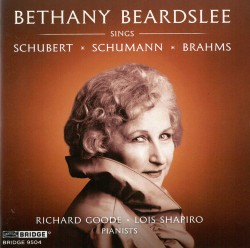 Bethany Beardslee sings Schubert; Schumann; Brahms
Bethany Beardslee; Richard Goode; Lois Shapiro
Bridge Records 9504 (bridgerecords.com)
The American soprano Bethany Beardslee, perhaps best known for her work with many of the major figures of 20th-century composition – most notably her interpretations of the work of the Second Viennese school and the American composer Milton Babbitt – tackles a decidedly Romantic compositional set on this 2018 Bridge release of a set of mid-1980s recordings. Although Beardslee is on record eschewing music that is simply entertainment and for the masses (articulating a similar proclamation to the 19th-century French slogan "Art for Art's Sake" with her 1961 declaration, "Music is for the musicians"), Beardslee reveals herself to be a sensitive and appropriate interpreter of these Romantic-era masters.
Well accompanied by the fine pianists Richard Goode and Lois Shapiro, modernism be damned, as Beardslee teases out the subtle nuances and effervescent rhythmic feeling of these composers, particularly so on Franz Schubert's bridging work between the Classical and Romantic eras. Of note here is the beautiful minor lied Gretchen am Spinnrade, which reminds listeners of the fact that the Faust legend remains relevant fodder for interpretation and exploration. With able accompaniment and clarity of recording, these compositions are not presented as ossified period-piece repertoire, but rather joyful texts capable of lifting the spirit.