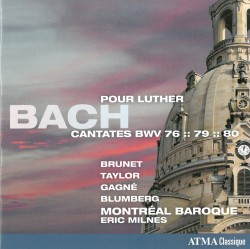 Bach – Pour Luther: Cantatas 76; 79; 80
Brunet; Taylor; Gagné; Blumberg; Montréal Baroque; Eric Milnes
ATMA ACD2 2407 (atmaclassique.com)
A glorious capture from June 2016 at the Église Saint-Augustin, Mirabel in Québec, this new ATMA Classique recording features some of Johann Sebastian Bach's most beloved religious work. Duke Ellington's sacred output aside, this body of Bach's work arguably presents the greatest blending of the artistic with the spiritual, wherein artistic intentions are done explicitly as an article of faith and a testament to devotion.
Bach's music is simultaneously ornate with specific detail (representing his faith) and straightforward in its clarity of purpose and messaging. To translate these intentions with creativity and respect is no easy task, but Eric Milnes – period music scholar, performer and conductor – does that and so much more when bolstered by a supremely talented group of Canada's early music performers (who often band together as part of Montréal Baroque for that city's annual early music festival).
The decision to use four vocalists (Hélène Brunet, Michael Taylor, Philippe Gagné and Jesse Blumberg) to sing the chorus portions of these cantatas imbues a resonant tonal clarity to the recording, while representing an admirable blend of musicological scholarship and creative decision making. Well-conceived and creatively inspired, this disc is a valuable addition to ATMA's goal of releasing Bach's entire body of sacred cantatas – and one that maintains their high standard of recording.