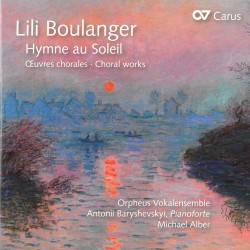 Lili Boulanger – Hymne au Soleil: Choral Works
Orpheus Vokalensemble; Michael Alber
Carus 83.489 (carus-verlag.com)
Although largely eclipsed by her older sister, the influential pedagogue, Nadia, composer Lili Boulanger produced a small body of astonishingly brilliant work in her tragically all-too-short life comparable to virtually anything written in 20th-century France. Such was the impact of her oeuvre that had she lived even a little longer than her 24 years, it's almost certain that she would have become one of the century's greatest composers.
The short choral works collected together on Hymne au Soleil present Boulanger – a devout Catholic – in a meditative and spiritual state, pouring a deeply religious intensity into this music. The crowning glory of this selection of 15 works is Psaume XXIV (Psalm 24), a declamatory cry of jubilation for multi-part chorus and tenor soloist (Davide Fior), in which powerful brass-like writing and modal harmonies provide a raw, primordial edge. Just as fine a piece is Soir sur la plaine, in which soprano Sonja Bűhler, tenor Joachim Steckfuß and baritone Christos Pelekanos solo as the chorus joins in this highly personal creation of great solemnity that resembles Fauré in its harmonies, if not in its music.
An overwhelming sense of mystery pervades this music – there are hints of plainsong – suggesting a deeply felt awe at the power of God's presence. The Orpheus Vokalensemble, directed by Michael Alber – with pianist Antonii Baryshevskyi – create a dramatic atmosphere bringing out the richly varied sonorities of each piece with subtlety and restraint.