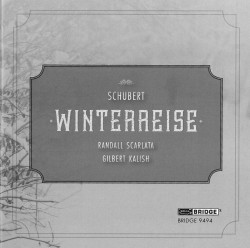 Schubert – Winterreise
Randall Scarlata; Gilbert Kalish
Bridge Records 9494 (bridgerecords.com)
It was the great lieder exponent and baritone Dietrich Fischer-Dieskau, who put possibly the most indelible stamp on one of Schubert's most famous song cycles. Over the course of Wilhelm Müller's 24 poems Winterreise describes grief over lost love which progressively gives way to more general existential despair and resignation. The beloved is directly mentioned only halfway into the work and the literal winter's journey is arguably in part allegorical for this psychological and spiritual one. Wintry imagery of cold, darkness and barrenness consistently serve to mirror the feelings of the isolated wanderer.
With wonderful control, Randall Scarlata's big dramatic voice clearly grasps every subtlety of the various shades of gray and black described by Müller's dark poetry. Scarlata breathes life into the rejected lover on the verge of madness, as we follow his lonely peregrinations through the snowbound landscape. Several tenors have played the role, and some believe the contrast between vocal tone and meaning has enhanced the drama. But Scarlata's dark-chocolate-like baritone epitomizes the darkness in the work perfectly.
Pianist Gilbert Kalish is no shrinking violet either. Although one does not have to wait very long to experience his fulsome participation in the cycle, the Einsamkeit vignette is a superb example of the perfect partnership he strikes with Scarlata as Kalish emerges from the shadows cast by the baritone to dramatize the cruel and unsympathetic fate with forceful emotional veracity.