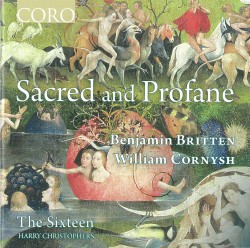 Sacred and Profane: Benjamin Britten; William Cornysh
The Sixteen; Harry Christophers
CORO COR16159 (thesixteen.com)
The music on this disc by The Sixteen, the United Kingdom-based choir and period instrument orchestra founded by Harry Christophers, includes work from various recordings that date back to 1991. Guided by Christophers, The Sixteen displays a technical command of polyphony and counterpoint matched only by the eloquence of their singers, memorably arrayed in this sacred and secular music from William Cornysh and Benjamin Britten.
Sacred and Profane is a sublime exaltation of the human voice in formal and more adventurous settings. The work of Cornysh (father and son) and Britten takes flight in these voices. Christophers and The Sixteen bring new renown to the Cornysh music marked by their more old-fashioned florid melodic style and Christophers and The Sixteen bring new renown to the Cornysh music, marked by their more old-fashioned melodic style and proto-madrigalian manner, as revealed in lucid and dynamic performances of Salve Regina and the celebrated Ave Regina, Mater Dei.
Britten's choral music – the dark elements are rarely far from the surface, especially in the Sacred and Profane sequence – is superbly cast and performed. The Hymn to St Cecilia is quintessential Britten, with text by W.H. Auden and a setting that emphasizes not just the emotional and aesthetic power of music, but its eroticism as well. Britten's music, like Auden's poem, combines a classical tightness of form with a complexity of ideas about the role of the artist in the face of a disintegrating civilization. The Sixteen's voices are clear and pure, and this acoustic gives the music the right amount of bloom.