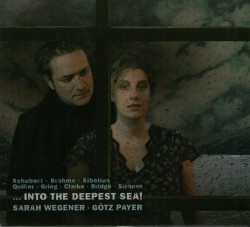 Into the Deepest Sea!
Sarah Wegener; Gotz Payer
SWR2 8553374 (sarah-wegener.de)
For the profound beauty of Brahms' Meine Liebe ist grün Op.63 No.5 to have its greatest impact on the senses, its majestic beauty must unfold in a mere minute and 44 seconds. It does so here in the voice of lyric soprano Sarah Wegener. At her command even the shortest of phrases are sung with gilt-edged, almost liquid silkiness. This is, however, not only the case with Wegener's Brahms. It's true of her Schubert, Strauss and everything else.
Throughout Into the Deepest Sea! not only does Wegener sing with utter beauty, but her interpretations of Brahms, Schubert, and indeed, the other composers, communicate very strongly the meanings of the words, as if each song speaks to her in the secret of her heart before reaching her lips. Her expressive manner of communicating pure poetry of feeling is echoed in the pianism of Götz Payer, who enters into each lied as a protagonist in his own right, playing his part in the music with vim and verve.
Wegener is wonderfully adept at maintaining the emotional centre of gravity of each song, navigating with graceful beauty around the outermost extremities of its narrative, yet always returning to the beating heart of the song. Her passionate performance extends to the mystical songs of Sibelius and the pastoral grandeur of Grieg, too. Everywhere on this disc, every nuance and subtlety has been carefully considered and beautifully sung, performed with both sublime delicacy and intense contrasts.