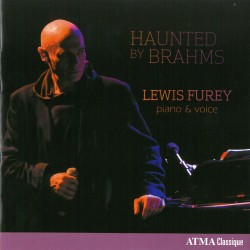 Haunted by Brahms
Lewis Furey
ATMA ACD2 2765 (atmaclassique.com)
Haunted by Brahms may be less lied in the classic sense and more song in the modern sense, but nay-sayers of either style ought not to have a complaint. The clarity with which Brahms' overlapping melodic strands and patterns of narrative tension are weighted, articulated and cleverly woven together in the angular charm of Lewis Furey's whimsical lyricism, is beautiful. Moreover, turning Brahms' lieder on its head gets the listener's attention as Furey's gently slurred nasal intonation recreates a hypnotic aura around the prevailing Brahms gravitas.
Purists may recall Glenn Gould's April 6, 1962 performance of Brahms' First Piano Concerto, where Leonard Bernstein voiced his dissent but proceeded to conduct the New York Philharmonic while Gould performed his radical interpretation of the work. To those who would bristle at Haunted by Brahms it bears remembering that there were still aficionados of Brahms who stayed behind and appreciated that performance. Likewise listeners of this recording will be better served by wide open ears rather than a proverbial Germanic rigidity.
Furey's interpretations of Brahms' rather unique German lieder reminds us that the composer took great risks when he also patronized lyricists who weren't – like Goethe and Heine – counted among the major poets of the day. Furey's lyrical, philosophical leap is just as remarkable. Also, in mirroring Brahms Deutsche Volkslieder in his own rather folksy, contemporary English renditions, Furey may actually have opened a new window into the Brahmsian lied.