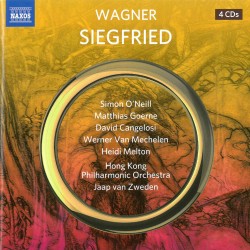 Wagner – Siegfried
O'Neill; Goerne; Cangelosi; van Mechelen; Melton; Hong Kong Philharmonic Orchestra; Jaap van Zweden
Naxos 8.660413-16
Siegfried is the real McCoy of the Ring Cycle, the epicentre packed with scenes of high drama, superhuman achievement and much of the Ring's most beautiful music. And it's also the most optimistic part of the Cycle; each act ends on a high note, reserving the best to the end with the most unusual love duet ever written. There is a fairy-tale atmosphere, a happy ending as well as unforgettable musical and dramatic highlights that usually translate into a glorious night at the opera.
This dramatic new Ring is the brainchild of Dutch conductor Jaap van Zweden, former concertmaster of the Royal Concertgebouw Orchestra. Discovered by Leonard Bernstein, he is now music director of four major orchestras, fulfilling a dream to record his own Ring Cycle with an orchestra he would whip into a Wagnerian superpower and pick the best possible singers available today. Each opera was recorded as a live concert performance, one per year beginning in 2015, so this is the third installment.
The title role, Siegfried, is the biggest casting problem of any Ring attempt, but fortunately New Zealand heldentenor Simon O'Neill, a young, athletic fellow who could look good even on a rugby field, solves this problem wonderfully. He is a natural, not only powerful, enthusiastic and tireless, but also sensitive and tender. Wotan, here called the Wanderer (as he is no longer in charge of things), is Matthias Goerne, another excellent choice, one of the greatest baritones in the world today. David Cangelosi became the audience favourite with his characterful, incisive singing as Mime, the evil dwarf. In closing, it's worth buying this set for the famous Forging Song alone. There were sounds coming out of the Hong Kong Cultural Centre never heard before!