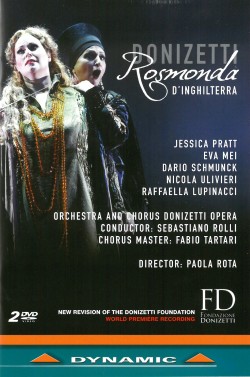 Donizetti – Rosmonda D'Inghilterra
Pratt; Mei; Schmunck; Ulivieri; Lupinacci
Dynamic 37757
Here is a fine example of how an opera can be presented effectively at relatively low cost with a dedicated, talented creative team, simple, minimalistic sets evoking the milieu, atmospheric lighting, colours and non-intrusive direction relying on the natural movement of the actors. Director Paola Rota should be congratulated for bringing Donizetti's forgotten opera after 171 years' slumber into shining focus at the Bergamo festival. The period is 12th-century England and the story is about an innocent young girl, Rosamunda Clifford, with whom Henry II fell in love, who in turn falls victim to the jealous rage of Queen Eleanor of Aquitaine. The underlying menace of this dismal story is well captured, and with Donizetti's gorgeously melodic score it really hits home to an enthusiastic audience at Donizetti's birthplace.
Jessica Pratt is one of the best bel canto sopranos today, and she is the star in the title role with her glorious, strong high notes and lovely legato singing. In the complex role of the scheming, murderous Queen, famous Italian soprano Eva Mei's brilliant performance brings lots of excitement. In the lesser parts of Arturo the rejected lover and Clifford the anguished father, mezzo Raffaella Lupinacci and baritone Nicola Ulivieri are also very effective. The only weakness is the King, high tenor Dario Schmunck, who has some difficulty keeping up with the strain of high tessitura of this very demanding role.
My great delight and a major contributor to the success is young conductor Sebastiano Rolli. His innate grasp of the score (that he conducts from memory!), perfectly chosen tempi and deliciously accented pointing, are the mark of a great conductor in the making.