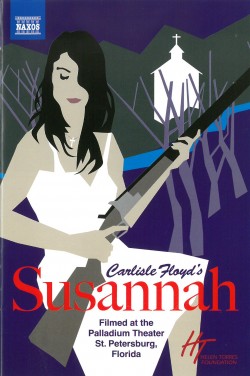 Carlisle Floyd – Susannah
Susan Hellman Spatafora; St. Petersburg Opera Orchestra & Chorus; Mark Sforzini
Naxos 2.110381
In an interview included in this DVD, Carlisle Floyd describes the two major influences on the creation of his most-performed opera. As a young university professor in Florida, he witnessed what he calls "the destruction of innocence" by false accusations during the 1950s McCarthy era. The son of a Methodist minister in South Carolina, he had also experienced the mob hysteria of small-town revival meetings. "I personally found it very terrifying as a child to go to these meetings," he says. "What offended me most was mass coercion – and it still does!"
Floyd's self-written libretto transfers the Apocrypha tale of Susannah and the Elders to "New Hope," a small town in Appalachian Tennessee. Susannah's folk-flavoured, often quite beautiful score amplifies a powerful drama – the innocent Susannah victimized both by the townspeople who believe her "pretty face must hide some evil" and the evangelical preacher, Olin Blitch, captivated by that same face.
Susannah has been performed hundreds of times since its 1955 premiere, but this is its first, very welcome, commercial DVD release. The St. Petersburg (Florida) Opera's 2014 production is low budget yet highly effective, the single set doubling as Susannah's house and the New Hope Church. Soprano Susan Hellman Spatafora is a feisty, radiant Susannah, baritone Todd Donovan a sturdy voiced Blitch, the revival-scene chorus truly "very terrifying," while conductor Mark Sforzini revels in the music's beauty and passion.
If you don't already know this opera, you should – it's unforgettable!