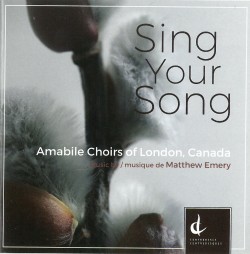 Sing Your Song – Music by Matthew Emery
Amabile Choirs of London
Centrediscs CMCCD 23617
Sixteen unique choral works by Canadian composer Matthew Emery are performed here with passion. An alumnus of London's Amabile Boys & Men's Choirs, Emery uses his experience with choirs' abilities to create soundscapes of shifting harmonies and glorious colours. One of CBC Music's 30 hot Canadian classical musicians under 30 for 2016, Emery is a musical individualist in his tonal yet offbeat harmonies, word settings and phrasings.
A number of the songs deal with death and parting. In the opening track Sweetest Love, John Donne's words are set to tonal harmonies with the occasional atonal note sneaking in. Especially moving are the high notes on the word sleep. Likewise in Still Colors (Velvet Shoes), the astounding tight ensemble performance with low and high harmonies drives the reflective mystery of this parting song.
All is not sadness. Let Your Voice Be Heard is a rousing song with a nod to minimalism as the line "let your voice be heard" is repeated as a reminder to be yourself. The Newfoundland folk song Haul on the Bowline has men's voices working hard to get a boat to shore, while percussion and fiddle add a traditional flavour. The closing title track Sing Your Song is an upbeat work with driving percussion and piano adding to the pop music and sing-along qualities.
All the Amabile Choirs of London give first-class enthusiastic performances. Matthew Emery composes choral music at its very, very best.