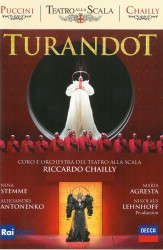 Puccini – Turandot
Nina Stemme; Maria Agresta; Aleksandrs Antonenko; Coro e Orchestra del Teatro Alla Scala; Riccardo Chailly
Decca 071 3937
Review
Puccini's regretfully unfinished Turandot was premiered at La Scala in 1926 under the baton of Toscanini. It was a likely choice to celebrate Milano Expo 2015, directed by Nikolaus Lehnhoff and conducted with passion and vehemence by La Scala's new music director, Riccardo Chailly. It also features a new ending composed (in 2001) by modernist Luciano Berio that unfortunately does away with the jubilant and exuberant finale that served well for over 80 years and which one would expect after the cruel and terrifying mayhem of this fairy-tale opera.
The opulent and impressive monumental, symmetrical set suggests a timeless, universal rather than explicitly Chinese milieu with an ever-present bloodthirsty crowd of identical gloomy figures in dark gowns and face masks reminiscent of Stanley Kubrick's Eyes Wide Shut. Gorgeous colours shift according to the mood of each scene and the central focus is the Emperor or the Princess elongated into divine proportions.
True to the spirit of La Scala the singers are top quality. Famous Swedish soprano Nina Stemme (Turandot) has phenomenal presence in her black multi-dimensional costume, her voice impressive as it soars over the theatre in the showstopper In questa Reggia. The grand tradition of Pavarotti lives on in Aleksandrs Antonenko's splendid Nessun Dorma. The riddle scene is a spectacular climax with both tenor and soprano in top form dramatically and vocally. Maria Agresta (Liu) was touching, beautifully singing Tanto amore, segreto with a gossamer-like ethereal vocal line. There is a commedia dell'arte quality in the comedy trio of the three Chinese ministers consistent with the surrealistic feel of this unorthodox but impressive and thought-provoking production.