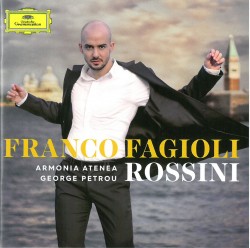 Rossini
Franco Fagioli; Armonia Atenea Choir and Period Orchestra; George Petrou
Deutsche Grammophon 479 5681
Review
The best ever? In the early 1960s I was fortunate to hear and meet Alfred Deller and Russell Oberlin, pioneers who created the standard for countertenors well before their voice type entered the musical mainstream. They were models for those who followed and eventually surpassed them, such as the splendid David Daniels.
But when I watched the DVD of Vinci's Artaserse (Erato 46323234) I felt a new level of countertenor brilliance had been achieved. The DVD of Hasse's Artaserse and the CD Arias for Caffarelli (Naive V5333) convinced me that Franco Fagioli's phenomenal coloratura technique and uniquely dark timbre make him the greatest of all countertenors.
This, Fagioli's first CD as an exclusive DG artist, focuses on Rossinian trouser roles, male characters written for and traditionally sung by mezzo-sopranos. Other than arias from Tancredi and Semiramide, four rarities are represented: Demetrio e Polibio, Matilde di Shabran, Adelaide di Borgogna and Eduardo e Cristina.
Though unfamiliar, the music is high quality, showcasing Fagioli through emotions from anguish to joy, fearfulness to triumph. I especially enjoyed the two scenes from Adelaide featuring martial choruses and Fagioli as the heroic Otto singing, of course, heroically. In the scene from Eduardo e Cristina, he spins a breathless, lyrical line before launching into the spectacular coloratura finale, also the CD's thrilling conclusion. Special credit to George Petrou's crackling period-instrument orchestra and chorus.
Texts and translations are included. A super disc by a super singer.