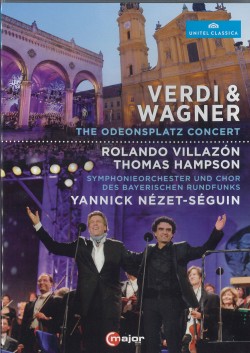 Verdi & Wagner – The Odeonsplatz Concert
Rolando Villazón; Thomas Hampson; Bayerischen RSO; Yannick Nézet-Séguin
Cmajor 716708
Last July to celebrate the bicentennials of Verdi and Wagner, a huge outdoor concert took place in Munich, the Bavarian capital with obvious connections to Wagner and his royal patron, Ludwig II. The show was held in Munich's epicentre, the vast quasi-Renaissance Odeonsplatz, under an arcaded loggia large enough to house a full symphony orchestra and chorus. The loggia, full of allegorical symbols of German glory and guarded by two fierce-looking stone lions, was lit in glorious colours to suit the mood of each item performed.
Curiously enough the two singing stars, tenor Rolando Villazón and baritone Thomas Hampson, apart from some Massenet, sang mostly unknown and second rate Verdi (I would seriously question the inclusion of an aria from Il Corsaro, Verdi's worst opera that even the Maestro himself hated outright) and only one Wagner, the Ode to the Evening Star from Tannhäuser beautifully sung by Hampson and timed perfectly to coincide with the evening shadows descending over the square. In Verdi I felt the only major success for the soloists was the "Liberty" duet from Don Carlo. Even Massenet was better represented.
Fortunately the most resounding hits were the orchestra and chorus with some of Verdi's and Wagner's finest choruses and overtures, led with aplomb by Montrealer and now world-renowned conductor, Yannick Nézet-Séguin. His youthful exuberance was infectious and he brought out idiomatic and superbly pointed performances like the rousing Entry of the Guests amplified by the wonderful natural acoustics so that it must have been heard all over Munich. Electricity was in the air and everybody noticeably sat up and listened, except perhaps for those morose stone lions.