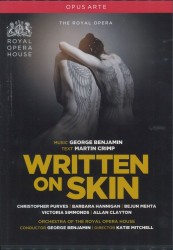 George Benjamin – Written on Skin
Christopher Purves, Barbara Hannigan; Bejun Mehta; Victoria Simmonds; Allan Clayton; Royal Opera; George Benjamin
Opus Arte OA 1125 D
Composer George Benjamin and British playwright Martin Crimp's latest project is the opera Written on Skin, produced to great acclaim in 2012. It recounts the legend of the 12th century Catalan troubadour Guillem de Cabestaing and his fatal ménage à trois, represented here by the principal roles of The Protector (baritone Christopher Purves), his wife Agnès (Canadian soprano Barbara Hannigan) and The Boy (countertenor Bejun Mehta). The Protector has hired The Boy (incongruously much balder than his employer in this production) to craft a manuscript about this medieval lord's mighty realm and deeds ("written on skin" refers to the vellum upon which medieval calligraphers crafted their illuminated manuscripts). Soon enough Agnès and The Boy fall in love and Agnès realizes how cruel her husband really is. The Protector himself also falls under his erotic spell. The affair ends quite messily with the husband killing The Boy and serving up his heart to his wife, who elects to throw herself off a balcony rather than submit to her misogynist husband ever again.
To the left of the stage a group of contemporary scholars in lab coats act as puppet masters, putting these characters from the past through their paces. The narrative of this psychodrama is abstract and freely poetic, with the characters referring to themselves in the third person throughout and the action shifting rapidly between past and present. Benjamin's chromatic vocal writing is consistently mellifluous and his sensitive and radiant orchestration never fails to impress. Mehta's eerie male soprano perfectly conveys his otherworldly, angelic character, Purves' insightful interpretation lends an element of humanity to his nefarious character and Hannigan's moving portrayal of a woman coming to self-awareness is both vocally gorgeous and dramatically incisive.
In an age when contemporary British operas too often resort to shock-and-schlock tactics it is a pleasure to encounter such a concise and sophisticated jewel of an opera.
Editor's Note: Composer George Benjamin and soprano Barbara Hannigan will be the featured guests at all three concerts of next year's Toronto Symphony Orchestra New Creations Festival where an opera-in-concert version of Written On Skin will be performed with surtitles on March 7, 2015.