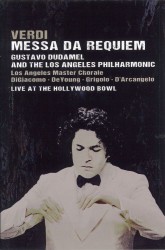 Verdi – Messa da Requiem, Live at the Hollywood Bowl
Di Giacomo; DeYoung; Griglo; D'Arcangelo; Los Angeles Philharmonic and Master Chorale; Gustavo Dudamel
Cmajor 714708
Young Dudamel's idea of bringing Verdi's Requiem into the open air, to an unlikely venue with questionable acoustics was a risky undertaking. It was riddled with technical problems from the very beginning, but somehow it came off surprisingly well and turned out to be a huge success. And with good reason too.
Young he may be yet he is not a showman, but a very serious, dedicated and astute musician. He conducts the entire mass without a score and without a baton, using his hand gestures (like Karajan did), not at all easy when controlling the vast forces at his disposal. He says he wants to have the piece in his hands, close to his heart. Using carefully maintained slow tempi ensures every detail is moulded to perfection, but he never lets the tension sag – Verdi would have hated that! He is also fully aware of the tremendous dramatic aspects of the work: witness the sudden deep silence after the gigantic outburst of "Dies Irae" when the clouds disperse to open up to clear blue sky, with trumpets sounding from high above and one really feels God is coming to pass final judgment.
There is a fine quartet of soloists, each having their memorable moment: Juliana Di Giacomo is heartbreaking in "Libera me," the part actually written first where the soprano reigns supreme; Michelle DeYoung shines eternal light in "Lux Aeterna." Vittorio Grigolo is certainly no easy-going Duke of Mantua (where I saw him last) but deeply moving in his tenor solo at "Ingemisco" and Ildebrando D'Arcangelo, with his very suitable name, is a seasoned veteran in the basso role who provides a solid foundation to the numerous solo assemblies Verdi had always excelled in writing.