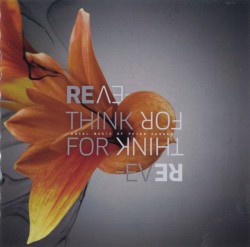 Peter Hannan - Rethink Forever
Musica Intima; Vancouver Cantata Singers
Artifact Music ART040 (www.artifactmusic.ca)
Happiness, love and the inequities of life drive the creative juices of composer Peter Hannan in the four vocal works (two with tape) here. This is not your standard choral fare – featuring Musica Intima on two tracks, the Vancouver Cantata Singers on another, and soprano Siri Olesen on the last, "Rethink Forever" will challenge the listener to rethink the nature of contemporary choral music forever.
Hannan uses his formidable skills in vocal scoring and tape development to set his self-penned, witty yet at times very troubling, lyrics to music. Musically, he draws on diverse influences, from ethereal harmonies, to traditional African music to the beats of pop. His words are drawn from his experiences living in Africa to Christopher Columbus to the happy gal at the checkout counter. What amazes is his ability to develop and superimpose these ideas seamlessly.
The performances are world class. This is tough material to perform, yet both choirs are solid in their technique and musicality. Soprano Siri Olesen's distinct voice is especially suitable to Hannan's compositional style – her haunting take on the equally haunting work for soprano and tape entitled No Brighter Sun: No Darker Night is a sudden reminder that "art" at its very best is simple and clear.
The liner notes are a great support in aiding one through the material. Artifact's superb production values are impressive too. Hannan need not search for "happiness" anymore. He's got it right on his own CD!