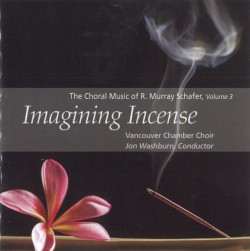 Imagining Incense - The Choral Music of R. Murray Schafer Vol.3
Vancouver Chamber Choir; Jon Washburn
Grouse 106 (www.vancouverchamberchoir.com)
This excellent recording features several major a cappella choral works by Schafer, all written over the past 20 years. These include Magic Songs (1990), Three Hymns (from Schafer's massive Fall into Light from 2004), Imagining Incense (2001) and Three Songs from the Enchanted Forest (1996). Musically, each piece, in its own way, demonstrates Schafer's remarkable ability to blend sophisticated vocal techniques with an eternal sense of the voice as an essential vehicle of expression; an expression that gives more meaning than mere words can convey. There is a deep spirituality to each of these pieces, but it is a spirituality unencumbered by dogma or liturgy. These are works that attempt to explore what is holy in nature, in human existence, and in social and cultural ceremonies.
The Magic Songs and the shorter Rain Chant (a piece on a theme drawn from And Wolf Shall Inherit the Moon) are ingenious original chants and the choral effects that Schafer creates in these pieces are mesmerizing and form a kind bridge between the human voice and nature in a creative way. Imagining Incense, with its description of the effects of different woods used for incense, and the hymns from Fall into Light, with their Gnostic and Hermetic texts, attempt to connect the listener with ancient ritual and devotion. All of the music on this disc confirms Schafer's brilliant originality, craft and command of musical language.
Under Jon Washburn's able direction, the Vancouver Chamber Choir is in top form. Their committed and energetic performances of these important pieces are a great gift.