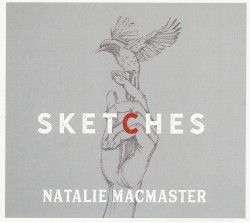 Sketches
Natalie MacMaster
Linus Entertainment 270431 (linusentertainment.com)
There is so much joy and sparkle in the performances, arrangements and compositions in Canadian superstar Celtic fiddler Natalie MacMaster's first new solo album in eight years. A mix of traditional Celtic and original tunes, she is joined by one of her favourite musicians, Tim Edey, on nylon and steel string guitars and accordion, and other instrumentalists on select tracks in this toe-tapping collection.
Her solid musical stylistic takes are supported by the combination of perfectly segueing different tunes in single tracks. The upbeat opening Father John Angus Rankin in Three Reels sets the mood for the rest of the music with her effortless style mastery. Great accordion clog violin transcription opens The Golden Eagle set. In Tribute to John Allan, MacMaster asked her cousin the late John Allan Cameron's son Stuart to play his dad's guitar in the opening Glasgow House March, a tune she learned from John, which is then followed by numerous faster reels and strathspeys played with spirited fiddle rhythmic bounce.
The Macmaster/Edey arrangement of James Scott Skinner's Professor Blackie is a mellower violin/guitar ballad with precise phrasing, soaring lines and effortless pitch jumps. As composers, MacMaster and Edey's Morning Galliano, named after the French accordionist, has a perfect French/Celtic feel with Edey's accordion flourishes and chords playing in tight, happy duets with the violin. Of MacMaster's own compositions, noteworthy is her closing same-named bluegrass/jazz-tinged tune from the Judy's Dance track. Lots of fun!