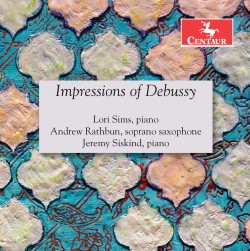 Impressions of Debussy
Lori Sims; Andrew Rathbun; Jeremy Siskind
Centaur Records (andrewrathbun.com)
With its evocative harmonies and imaginative rhythms, the music of Debussy particularly lends itself to jazz interpretations and the blending of the two idioms meld perfectly on this Centaur recording featuring nine of Debussy's Préludes played by pianists Lori Simms and Jeremy Siskind together with soprano saxophonist Andrew Rathburn. The disc is a delight!
Comprising 18 tracks altogether, the well-ordered sequence features Sim's performance of a prelude as it was originally written, immediately followed by the same piece reimagined by either Siskind or Rathburn and performed by the duo. The arrangements were first presented at the Gilmore Keyboard Festival in 2016.
Sims' performance is poised and sensitive, at all times beautifully nuanced. And what is particularly appealing is the manner in which the jazz interpretations reinvent the original in such a creative way that frequently the piece is transformed altogether. As an example, the esoteric and mysterious mood of preludes such as Les sons et les parfums tournent dans l'air du soir and Feuilles mortes is almost abandoned in the jazz version and replaced instead by the use of a brisker tempo and jazz harmonies in an amiable conversation between the two parts. Yet other re-interpretations are closer to the original, such as Minstrels with its quirky rhythms and slapstick good humour.
Throughout, the duo plays with a freshness and spontaneity that truly breathes new life into traditional repertoire in a very convincing way – how could Debussy not have approved?! Impressions of Debussy is perfect listening for a summer evening – or anytime for that matter. Recommended.