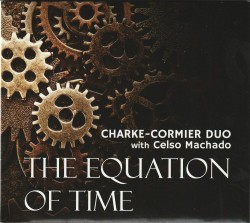 The Equation of Time
Charke-Cormier Duo with Celso Machado
Leaf Music LM260 (leaf-music.ca)
Featuring Derek Charke on flute and bass flute and Eugene Cormier on guitar, this CD takes its title from Charke's composition The Equation of Time, which occupies the last four tracks and refers to the fact that it is composed of an equal number of fast and slow sections. Arguably, however, the CD might better have been called The Equations of Time, not only because of tempos, but also because the compositions found on it were written in four different centuries, and the two older compositions include contemporary additions and variations seamlessly incorporated by the composer-performers themselves. This in itself adds yet another temporal dimension, the composer-performer, a rarity in our day, but typical earlier in the life of western music.
Added to all this are percussionist Celso Machado's contributions, six pieces of Brazilian dance music, adding a musical sensibility at least as remote from contemporary Canadian music making as the much older compositions on the disc by Frescobaldi (17th century) and Wilhelmine von Bayreuth (18th century). The result is a strange and intriguing series of juxtapositions of new and old, familiar and unfamiliar, expected and unexpected musical experiences, a sort of musical surrealism, evocative of the artistic ferment of the second and third decades of 20th-century Europe, but with a vitality coming from real artistic expression and not imitation. I should add as well that the performances are infused with an equal vitality and artistry.
Charke, Cormier and Machado have reinvented the CD as a work of art in itself, more than just a concert program frozen in time.