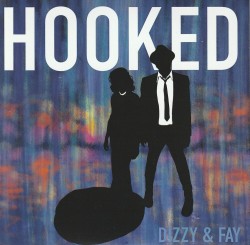 Hooked
Dizzy & Fay
Independent (dizzyandfay.com)
Dizzy & Fay are at it again. With Hooked, their second release in just two years (thanks lockdowns!), the duo (keyboardist, songwriter, arranger and producer Mark Lalama and Juno-nominated singer and songwriter Amanda Walther) continues to build its persona, reminiscent of smoky jazz clubs, late nights and one too many martinis.
Hooked ventures beyond the duo and their considerable playing and singing skills though, with arrangements rich with woodwinds (Johnny Johnson) horns (William Carn and Jason Logue) drums (Davide DiRenzo) and bass (Rich Moore). The City of Prague Philharmonic even makes a couple of appearances and Drew Jurecka's orchestrations on those tracks really shine.
As great as all of those accoutrements are, what draws us in most is the songwriting. Inspired by the Great American Songbook, Lalama and Walther have given us a set of songs that are both lyrically and musically strong and stylized, yet heartfelt. Themes of love and longing dominate but no modern album is complete, it seems, without at least one song about the pandemic and I'm Alright elegantly shrugs it all off while Good News cleverly evokes the strange mix of ennui, despair and coziness many of us felt. Hooked is playful and cool but will break your heart if you let it.
(The duo's virtual world, the Dizzy & Fay Speakeasy, complete with tour dates and merch, can be explored at dizzyandfay.com.)