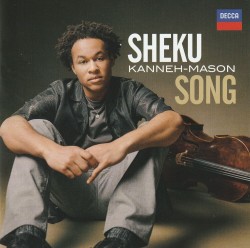 Song
Sheku Kanneh-Mason
Decca B0036196-02 (deccaclassics.com/en/artists/sheku-kanneh-mason)
Since winning BBC Young Musician in 2017 cellist Sheku Kanneh-Mason has been much in demand from every musical quarter, traversing a road to glory, the envy of many musicians, some twice – even three times – his age. It is now safe to say that the music world is Kanneh-Mason's oyster, albeit with room to spare for all his über-gifted siblings.
But the cellist has – to all intents and purposes – pride of place in music's rarefied realm. His Shostakovich First Cello Concerto unearthed real depth. From evidence of his various Decca recordings he seems to have soaked up every experience in the glitz and gush of what you might call his formative years. At the time of reviewing Song, with its repertoire culled from the classical and the popular, and from secular and sacred pieces, Kanneh-Mason is set to perform his interpretation of Elgar's monumental Cello Concerto in E Minor Op.85 – a work long held out of bounds because of Jacqueline du Pré's iconic 1962 recording – with the Toronto Symphony Orchestra. (Unfortunately, that will have taken place by time of publication.)
However, Song amplifies the truth that Kanneh-Mason may have inherited Du Pré's crown. The freshly radiant interpretation of Beethoven's Variations on Ein Mädchen oder Weibchen, Mendelssohn's Songs without Words (both also feature his brilliant pianist-sister, Isata), Stravinsky's Chanson russe and Bach's sacred music are spectacular. But Same Boat, a song composed by Kanneh-Mason (with vocalist Zak Abel) is the album's apogee. In this simple song lies notice of Kanneh-Mason's glowing compositional genius.