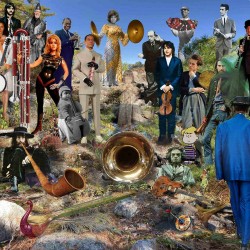 i'd Love to Turn…
John Oswald
fony (pfony.bandcamp.com/album/id-love-to-turn)
Prolific Canadian composer/performer John Oswald is back with an illustrious, boundary-crashing release, dedicated to Phil Strong. Four main tracks are online streaming, with additional five bonus tracks. videos and main track PDF scores for downloading.
The main four tracks are Oswald's self-described plunderphonic Rascali Klepitoire/hybrids combining elements from live-performance recordings with studio-based additions and plunderphonic transformations, primarily focused on music he discovered in the mid-1960s. Fee Fie Foe Fum is complex, surprisingly easy listening based on the 1966 pop hit, and Oswald's research between Frank Zappa's first album release and Edgard Varèse's death. Familiar tidbits are superimposed into fragmented short upbeat modern sounds.
The BBC orchestral commission I'd Love to Turn… quotes The Beatles, Ligeti and Terry Riley. This studio recreation combines orchestral sounds with electronics, creating new music embedded in popular music.
Oswald quotes from around 40 piano scores in brief fragments, up to four simultaneously, in the Marc-André Hamelin solo piano commission Tip (2022). A calm, classical-flavoured opening leads to chords, flourishes, runs and rhythms. Love the evocative high-pitched ringing sections.
Varèse, Zappa and 1960s music are featured in reFuse. Oswald's ear-catching talent to keep a work moving with fragmented interchanging, superimposed live instruments and electronic quotes and effects drive this "name that tune" work. Bonus tracks highlights are live Hamelin rehearsal Tip, and Turning Point Ensemble reFuse performances. Oswald reinvents Ligeti, Zappa and Varèse each separately on three additional tracks.
The more one listens to Oswald's memorable music here, the more one hears and loves.