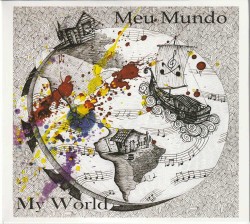 Meu Mundo – My World
Carlos Cardozo
Lula World Records LWR026A (carloscardozo.ca)
Brazilian-Canadian musician Carlos Cardozo has for many years enriched Toronto's music scene, as he seems to be on every Brazilian music group's first call list. If there's a Brazilian music gig, Cardozo will almost surely be there. Now he can add songwriting to his long list of musical accomplishments, alongside singing and playing cavaquinho, guitar and percussion. Dozens of his musical compatriots, both in Brazil and Toronto, have added their talents to this album either through co-songwriting (in particular Elias Barros), arranging or playing on the tracks. Credit for much of the beautiful production and several of the arrangements goes to the uber talented guitarist, André Valério.
While those of us who aren't fluent in Portuguese won't be able to fully understand the lyrics, we can still easily appreciate the sentiment and the exceptional musicality of Meu Mundo. The first track Amor ao meu Sertão, a gorgeous tribute to a region in the northeast of Brazil, sets the tone for the album, which is in large part a love letter to Cardozo's homeland. From the gentle samba and dreamy strings of Beija-flor da Fumaça (loosely, about a hummingbird) to Forró de Pernambuco (forró is a genre of traditional music from the northeast) or Uma volta na Veneza brasileira (a funky 70s-style tribute to Recife, known as the Brazilian Venice), Meu Mundo takes us on a musically rich and heartfelt journey and we are the better for it. Find the album and videos on Cardozo's website.