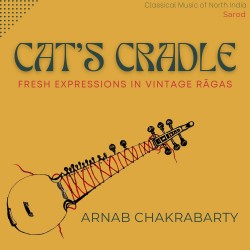 Cat's Cradle
Arnab Chakrabarty
Independent (arnabchakrabarty.bandcamp.com/releases)
Musicians from around the globe have chosen to make Toronto home ever since the days it was colloquially tagged for hogs and muddy streets. Virtuoso sarod player Arnab Chakrabarty, a representative of the venerable Hindustani raga classical music tradition, is a relatively recent and welcome addition to the ranks of Toronto-area music professionals.
No novice, over the last two decades Chakrabarty has played hundreds of concerts on stages around the world. Indian newspaper The Hindu reported that Chakrabarty is "known both for his emotive virtuosity and cerebral approach," believing not in "simplifying music to cater to popular tastes as much as revelling in 'manipulating the operative rules of the ragas to create interesting expressions.'"
Chakrabarty aims to make classical raga performance accessible to today's audiences without compromising its fundamentals. And his third full-length album Cat's Cradle, featuring sarod renderings of five classical ragas, reflects this balanced approach. Eschewing flamboyant ornamental passagework, he rather focuses on the core values of the raga at hand which come to life in the alap, the introductory melodic improvisation.
The gat, a melody set in a specific raga and tala (time cycle) the latter rendered on the tabla, follows. On this album the gats are Chakrabarty's compositions. They in turn inspire improvisation, the outcome of a spirited dialogue between set rules and the musician's imagination freed up.
Cat's Cradle gives full scope to Chakrabarty's in-depth understanding and imaginative exploration of each raga complex, plumbing their signature phrases and emotional tenor while never losing sight of the rich Hindustani traditions of raga performance practice.