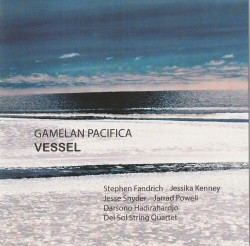 Vessel
Gamelan Pacifica
Independent 002 (gamelanpacifica.org)
Led by composer Jarrad Powell, for over 40 years Seattle's Gamelan Pacifica has been one of the few ensembles specializing in the intersection of Southcentral Javanese gamelan and international experimental music. Its new release Vessel extends that approach in new directions, bookended by two works by group musician and composer Stephen Fandrich. Laras Chopin and Difference both evoke a sound world of electronic clusters, or perhaps of bowed glass bowls, supported by occasional powerful bass tones. Yet Fandrich creates that soundscape using mostly acoustic sounds coaxed from bowed metal gamelan instruments, deep gongs, and a piano played with an electromagnetic bow. The effect is magical.
Fandrich's Iron Tears explores regions between the Western harmonies rendered by the Del Sol string quartet and indigenous gamelan tunings. They're allowed to interweave for 12 minutes before cadencing in a surprising A Major chord.
Powell's Tsuki features the brilliant Javanese-inflected singing by Jessika Kenney of an English text by Zen Master Doĝen urging us toward direct experience, the path to spiritual awakening. In her challenging work Scar, composer Kenney aims to "unlearn Javanese vocal timbres and melodic patterns without relearning centering whiteness." She explains the work is a "prayer which intends to reject the violence of white imperial privilege, and also to unlearn [the] Javanese vocal tradition" in which she is so fluent.
Finally, Ketawang Panembah by Darsono Hadirahardjo features an emotional rebab (2-string bowed lute) solo masterfully played by Jesse Snyder. Originally meant to evoke a prayer for divine blessing, this moving music – and much of the album – reminds us of the healing power of music in dark times.