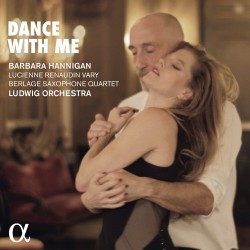 Dance With Me
Barbara Hannigan; Lucienne Renaudin Vary; Berlage Saxophone Quartet; Ludwig Orchestra
Alpha 790 (naxosdirect.com/search/alpha790)
Music and dance are rooted deep in the human condition. Canada's favourite soprano-conductor Barbara Hannigan, directing the musicians of the Ludwig Orchestra and Berlage Saxophone Quartet, celebrates the popular music of the 20th century on Dance with Me. Covering 12 dances ranging from Viennese waltz to foxtrot, tango to quickstep, rumba to one-step, from slow dance to samba, salsa and jive, this well-recorded album is engineered to get your feet shuffling.
In some ways it feels like a follow-up to their 2018 Grammy Award-snagging Crazy Girl Crazy, the collaboration with composer-arranger Bill Elliott. This music has a personal resonance tinged with nostalgia for Hannigan, who stated that she "was thrilled to go back to this aspect of my musical roots, to reawaken special memories of singing and playing keyboards with a dance band in Nova Scotia."
Hannigan sings four songs on the card. She brings a girlish charm to I Could Have Danced All Night, emotional drama to Moonlight Serenade and a pouty sexuality to Fluffy Ruffles. One of her signature near-operatic interpretations takes centre stage: Kurt Weill's dramatic, wistful minor-key tango-habanera, Youkali, is an ideal vehicle for her portrayal of the universal yearning for paradise lost.
I should mention Elliott's accomplished orchestral arrangements for the Ludwig Orchestra. This fun album tickled my latent ballroom genes. Trigger warning: it may well tickle yours too.