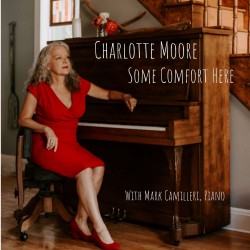 Some Comfort Here
Charlotte Moore; Mark Camilleri
Independent (open.spotify.com/album/0BnDapG1mPFfKfCUZhwLfI)
If, like me, you know Charlotte Moore as one of Canada's top musical theatre performers, this new album is a fun window on another side of her performing personality. And yet, though the songs are more pop than theatre, they still display her signature ability to get to the essence of a song – making it seem she is making up both words and music on the spot.
The intimacy created by this ability is inviting and the choice of often wistfully melancholic songs of love and friendship from Joni Mitchell's Help Me (I think I'm falling in love again) to Tom Waits' Rainbow Sleeves and Old Friend (from the musical I'm Getting My Act Together and Taking it on the Road), is cathartic listening material after almost two years of living through this seemingly unending pandemic.
Moore also lets loose in a couple of much more lighthearted jazzy numbers that suit her voice brilliantly: Chantal Kreviazuk and Raine Maida's 2006 hit All I Can Do, and the 1932 classic Hummin' to Myself (Sammy Fain et al).
Moore's voice is at its best when relaxed in her lower register where tears and laughter can hover near the surface. When she aims higher into a belt her voice loses some of its rich quality and yet the very rawness of this "almost live-to-tape" recording of Moore's voice backed by the masterful piano of Mark Camilleri is attractive and pulls us into the mix offered up of tears, hope and laughter.