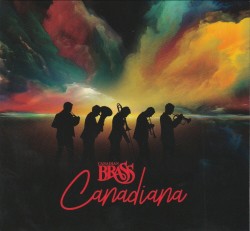 Canadiana
Canadian Brass
Linus Entertainment 270596 (linusentertainment.com)
One of the most iconic instrumental ensembles in Canada has just released its tribute to fellow Canadian musical icons, Canadiana. Given the theme, it's unsurprising that the covers should include Joni Mitchell, Leonard Cohen and Bruce Cockburn. What is surprising – and entertaining – is the presence of songs by Drake, Shawn Mendes and even EDM artist, Deadmau5.
Although the Canadian Brass is an incredibly prolific ensemble, having released 137 recordings since its inception in 1970, there's been a hiatus of several years since their previous CD. The driving force behind Canadiana is trumpeter Brandon Ridenour who first joined the Brass when he was just 20 years old. He moved on to other projects and a successful solo career before returning in 2019 and conceiving, co-producing and writing all the arrangements for this project. Recorded during the pandemic, with the musicians working individually in their home studios, the album is a marvel of engineering and mastering.
Canadiana fittingly opens with Je Me Souviens, the song by Lara Fabian which became a Quebec anthem of sorts, and the mix of melancholy and triumph of the original are captured here. The standout tracks for me are the surprisingly gorgeous Deadmau5 song I Remember (I'll take tuba over a drum track any day), the playful Best Part by Daniel Caesar (the young R&B singer-songwriter is being hailed as the Next Big Canadian Thing) and Rush's Overture 2112, which is a complete gas. This version of Shawn Mendes's hit Senorita just makes me wish piccolo trumpet was used all the time in pop music. Although additional instruments like percussion and electric guitar were enlisted to beef up the brass on a few of the tracks, the closing tribute to Leonard Cohen, Hallelujah, relies sparingly and beautifully on just brass.